Our Autumn Open Exhibition features the artwork of the winners of Cranleigh Open Competition 2019. Come and explore the creations of the talented local artists, Kim Cody (Judges' Winner), Georgina Talfana (Judges' Runner-up) and Kathy Plank (Public Vote Winner).
Kim Cody
Born and educated in the south of England, Kim has drawn and painted all her life. She was a teacher of art and design for thirty five years before moving in 2002 to Brittany where she lived and worked for twelve years. Her paintings are essentially about the landscape but her interpretation of the environment is emotional rather than pictorial. Her main preoccupation is with the juxtaposition of lines, colours, shapes and occasionally textures. In some places one of these elements will dominate only to be fragmented, submerged or obliterated in other areas of the composition.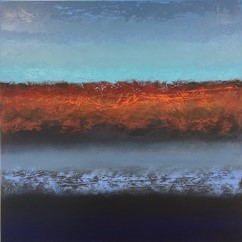 Georgina Talfana
My work is about the intensity of the city and how we navigate through it with symbols, images, maps and sounds. I often feel overwhelmed in the city as we are constantly bombarded with noise and I am particularly interested in depicting what I see as crowded and claustrophobic commuter situations, but others regard as normal conditions on their daily journey to work. My work generally starts at a tube station in London where I will draw or photograph anything that catches my eye along the journey. Rather like a flâneur, I stroll along observing society, waiting for things to find or interest me.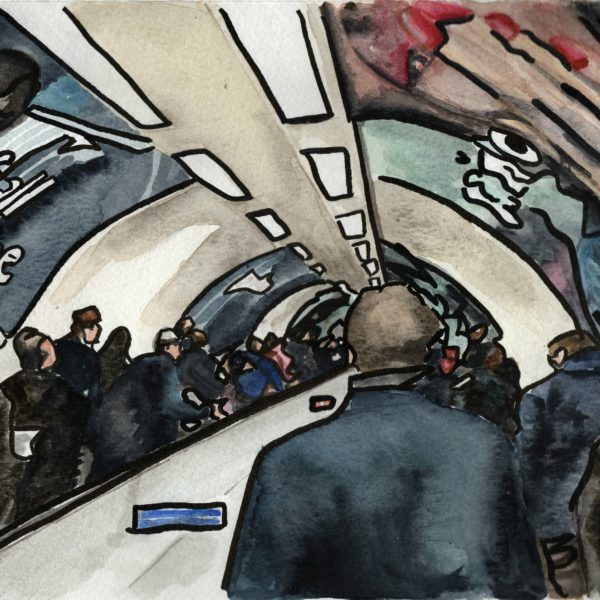 Kathy Plank
Kathy Plank has been working as a fine artist for over twenty years. After completing a successful art education at Epsom school of Art and Design, she obtained her BA Hons. Degree in Fine Art at Liverpool John Moores University. Whilst studying, Kathy became inspired by the works of the Impressionists and Abstract Expressionist artists. She works largely in oil on canvas and seeks to combine the ever-changing beauty of the natural world with an energy of expression to depict the spirit and force of nature. Recently, Kathy has started to explore the concept of portals to other worlds, storytelling the ethereal and  dreamscapes. She is passionate about the power of colour and light.
Kathy has been represented by local, national and international galleries and her work is owned in the UK and overseas.